Dear fellow cyclists,
We at GIYO are thrilled to introduce the latest shock pump series from GIYO – the GSGY-02E, GS-52L, and GS-24L Bike Shock Pumps. These cutting-edge products are designed to elevate your cycling experience to new heights by ensuring optimal performance and comfort on any terrain. Let's dive into the features of each pump and discover how they can transform your cycling adventures!
1. GSGY-02E Bike Shock Pump – Your Suspension's Best Companion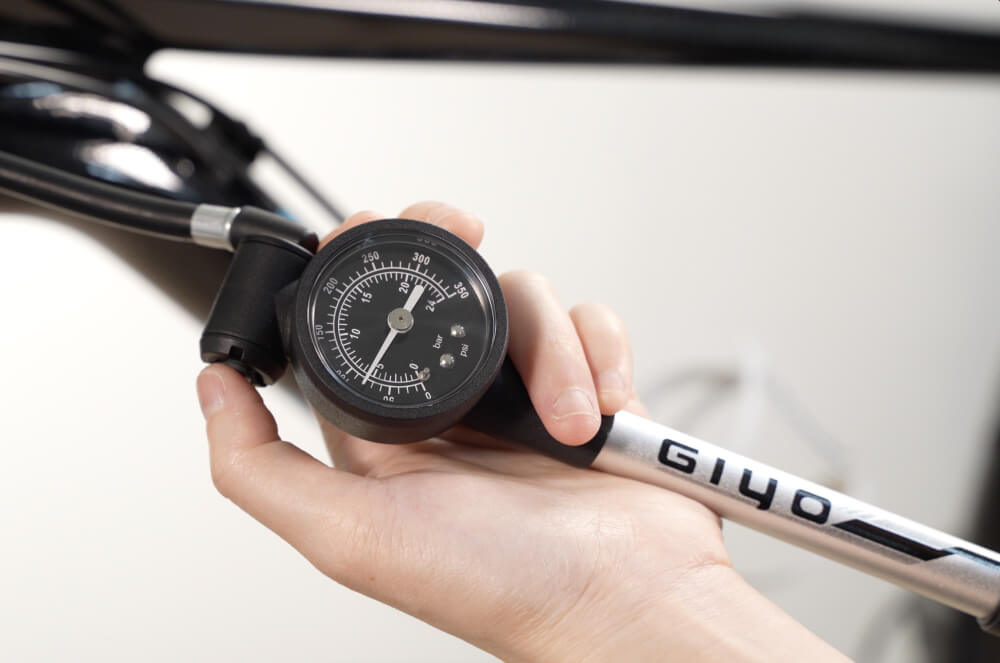 The GSGY-02E Bike Shock Pump is meticulously engineered to fine-tune your mountain bike's front suspension effortlessly. Its impressive features include:
Micro Air Adjustment: Achieve the perfect air pressure with the micro-adjust button, providing 1-2 PSI release per push. This level of precision ensures a tailored ride that suits your preferences.
Aluminum Barrel: Crafted with a durable and lightweight aluminum barrel, this pump delivers optimal efficiency while keeping your cycling gear lightweight.
5″ Dial Gauge: The easy-to-read 1.5″ dial gauge provides clear and accurate pressure readings, enabling you to monitor your suspension's performance with confidence.
350 PSI: With an impressive 350 PSI capacity, this pump handles your front suspension needs with ease, ensuring a smooth and controlled ride.
360° Rotary Hose: The innovative 360° rotary hose design ensures easy and hassle-free pumping from any angle, making your maintenance routine a breeze.
Rubber Non-Scratch Head: The non-scratch head with a lever pump head protects your bike's components while securely attaching to the valve.
Compact and Portable: At just 9.5″ in length, this pump is compact and lightweight, making it an excellent travel companion for all your cycling adventures.
2. GS-52L Turbo Bike Shock Pump – Turbocharge Your Suspension!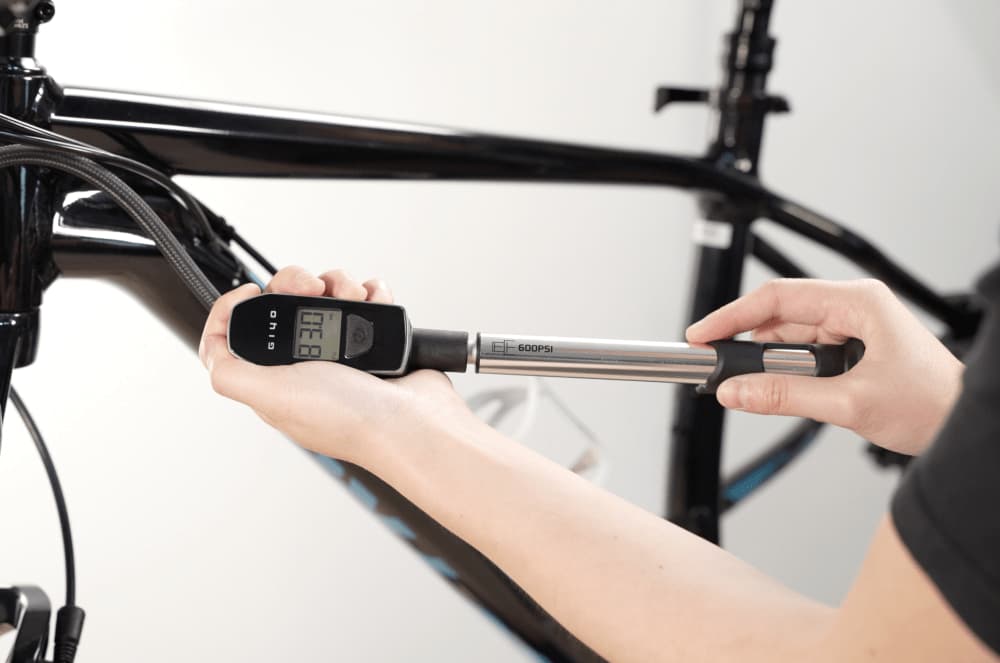 Unleash the power of precise pressure control with the GS-52L Turbo Bike Shock Pump. Its unique dual barrel design and advanced features offer an unparalleled pumping experience saving you 60% of pumping effort compared to traditional designs:
Air Turbo Digital Shock Pump: Experience turbocharged pumping action with the Air Turbo system, effortlessly reaching pressures of up to 600 PSI for high-performance shocks.
Micro-Adjustment: The micro-adjust feature lets you fine-tune air pressure with 1-2 PSI release per push, ensuring your suspension meets your exact requirements.
Dual Barrel Construction: The dual barrel design makes pumping to high pressures easier than ever before, reducing strain on your arms and maximizing efficiency.
Ergonomic Design: The pump's ergonomic handle enhances comfort and grip during pumping sessions, letting you focus on the joy of cycling.
Digital Gauge:  The easy-to-read digital gauge provides precise pressure readings, allowing you to make real-time adjustments for optimal performance.
Fabric Braided Hose:  The fabric braided hose ensures high-pressure safety, giving you peace of mind during intense rides.
Portable:  Measuring 10.4″ in length, this pump is both compact and portable, making it an indispensable tool for any cycling enthusiast.
3. GS-24L Turbo Bike Shock Pump – Experience Unrivaled Pumping Power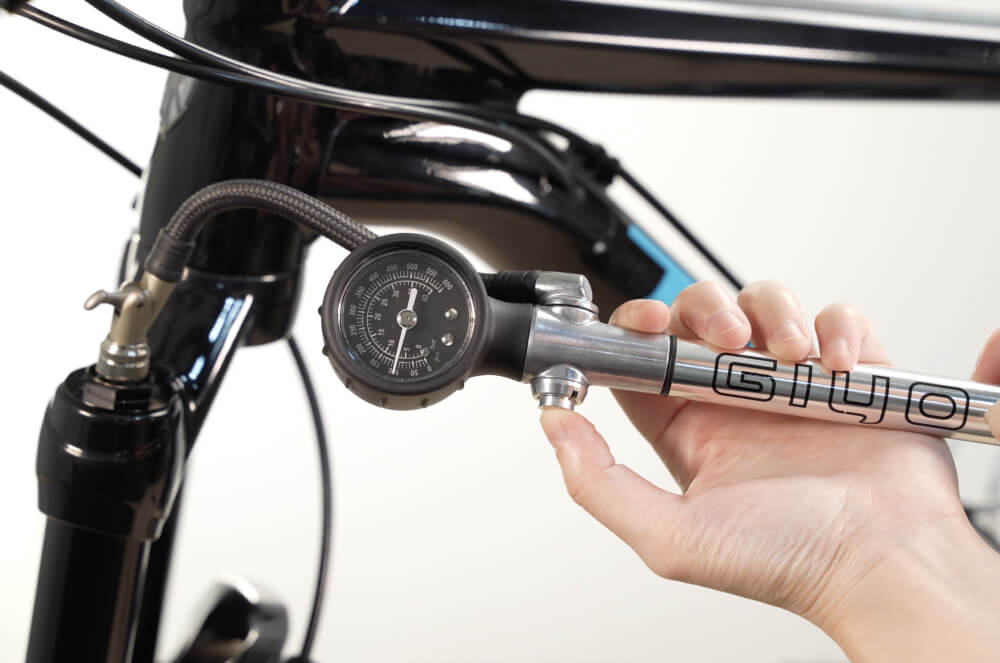 The GS-24L Turbo Bike Shock Pump packs a powerful punch with its turbo system and versatile features, saving you 60% of effort compared to traditional shock pumps, making it a must-have for every cyclist:
Air Turbo Shock Pump: The turbo system delivers rapid and efficient pumping action, providing quick and easy pressurization of your shocks.
Dual Barrel: The pump's dual barrel design optimizes pumping efficiency, ensuring you spend less time on maintenance and more time on the road.
Ergonomic Handle:  The ergonomic handle is designed for smooth and easy pumping, reducing strain and fatigue during use.
Micro Adjust Feature:  Fine-tune your suspension with the micro-adjust system, releasing 1-2 PSI per push, resulting in a smoother and more enjoyable ride.
Soft Material Gauge Cover:  The soft material gauge cover protects the dial from potential damage, keeping your pump in pristine condition.
Fabric Braided Hose:  The fabric braided hose ensures safety even at high pressures, making it a reliable companion for your adventures.
With these innovative GIYO Bike Shock Pumps, you'll unlock the true potential of your bike's suspension, elevating your cycling experience to new heights of comfort and performance. Whether you're a mountain biking enthusiast or a casual rider, these pumps are essential tools for maintaining peak performance and optimizing your cycling adventures.
Our new shock pumps will be available in our Amazon store from Mid August.
Happy cycling!